LUDO

- the first Faroese feature film since 1999

18 September 2014

| TRAILER | STILLS | Facebook |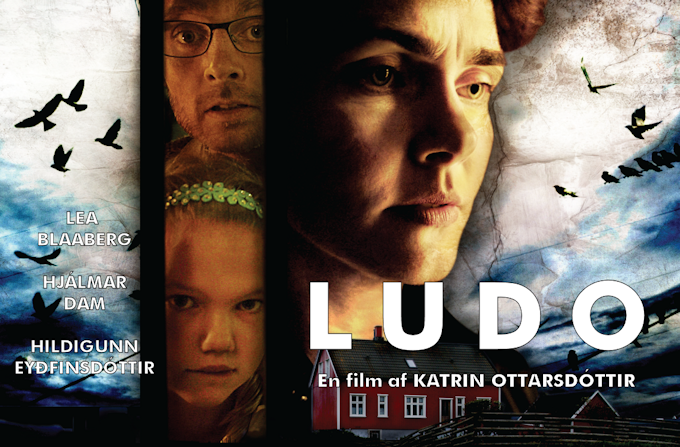 WORLD PREMIERE in the Faroe Islands
The "world premiere" took place in the Nordic House in Tórshavn 11 September 2014.
Since 12 September the film has been running in Havnar Bio in Tórshavn and Atlantis Bio in Klaksvík, and in a small "home cinema" (8 seats) in the village of Sandur where the film was shot.
DANISH RELEASE
Ludo will be released in Denmark 25 September in the following cinemas:
Vester Vov Vov in Copenhagen, Øst for Paradis in Aarhus, Cafebiografen in Odense, Biffen in Aalborg and Valby Kino in ... well, Valby.
Additionally LUDO will be the opening film of the festival Færøske Biodage (Faroese Cinema Days) in Copenhagen 25-30 September.
---
LUDO is a psychologial drama about an 11-year-old girl caught between her mother's dark, depressive mind and her father's wellmeaning passiveness. At a first glance it seems like an ordinary, happy family - mum and dad and their 11-year-old daughter living in a beautiful house in beautiful surroundings in a village in the Faroe Islands - but soon we realize that something dark and sinister lies lurking behind the facade waiting to explode.
LUDO is Katrin Ottarsdóttir's third feature film and it is the first Faroese feature film in 15(!) years. The last one was Bye Bye Blue Bird (1999) and the last one before that was Atlantic Rhapsody (1989), both written and directed by Katrin aswell.
---
The cast
Lea Blaaberg

The daughter

Hildigunn Eyðfinsdóttir

The mother

Hjálmar Dam

The father

Bárður Persson

The doctor

Gunnvá Zachariasen

The doctor's wife
The crew
Screenwriter, director and editor: KATRIN OTTARSDÓTTIR
Cinematographer: NATASCHA RYDVALD (DFF) Website
Cinematograper's assistant: RÓGVI RAMUSSEN
Production design: EDWARD FUGLØ Website
Sound recording: JÓN MCBIRNIE
Lights: KENNETH JØRGENSEN
Grip/Jack-of-all-trades: SIGTÓRUR ANDREASEN
Runners: HJØRDIS H. EIDE, BARBARA HILDUBERG
Production degsign assistants: JANUS HANSEN, ANNIE EYSTBERG JENSEN
Cooks: INGE PETERSEN, ELSA PETERSEN
Music: SUNE KØTER KØLSTER Website
Producer: HUGIN EIDE
Financial supporters/sponsors:
Cultural funds etc.: Mentanargrunnur Landsins, Mentamálaráðið, Filmsgrunnur Norðurlandahúsins og Klippfisks, Tórshavnar Kommuna, Fjølrit, VisitFaroeIslands, Sands Kommuna.
Private companies: P/f Poul Michelsen, Hotel Føroyar, Effo, SPEKT, BankNordik, Eik Banki, Tryggingarfelagið Føroyar, Advokatskrivstovan, Advokatfelagið, Faroe Ship, SIRI.
Associate producers: Jenny Johannesen, Sigtór Debes, Povl Skårup, Gitte Louise Ottarsdóttir Olsen, Samuel Garrick
- and 98 other who contributed to our CROWD FUNDING campaign on Indiegogo.com.
Other support and help:
Kameraudlejningen A/S, Kringvarp Føroya, Klippfisk, the owners of the house on Høgnamørk, Optikbúðin, Hjá Kissa, Niels L. Arge, Tjóðpallur Føroya, Bilrøkt, Sandoyar Bjargingarfelag, Ungmannafelagið Virkið, Jørgin P. Johannesen, P/F Jógvan Weihe, Viviann Hárfríðkan (Ada Joensen & Annika Udbø), Henrik Jensen, Atlantic Airways, Harald Jensen, Kjartan Petersen
Thank you all!!


© 2007 Hugin Eide | Design by Andreas Viklund